lovers on the loose is an exhibition of paintings and sculptures by Sammy Binkow in his first exhibition with Simchowitz.
Originally from the San Fernando Valley, Sammy Binkow was raised by a game show producer father and an art teacher mother. Watching his family take ideas from the breakfast table and turn them into polished TV productions (Sammy's sister is also in the game show industry) sparked Binkow's creative instinct at a young age. He sought advice from his mother, who steered him down the long road of art history and introduced him to a canon of painters and sculptors. If a game show and a home for teaching art weren't a recipe for starting to make art, it would be all the weirder.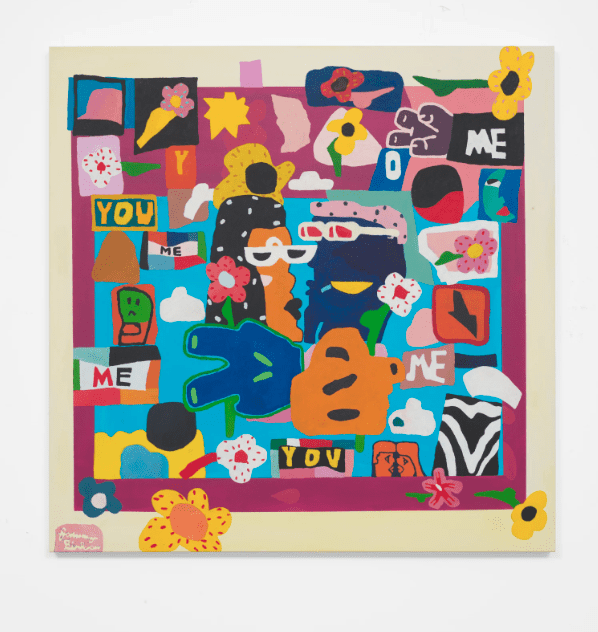 Sammy Binkow works between painting, sculpture and textiles in his highly iconographic and iterative practice. Binkow's vocabulary is all his own, incorporating looping text and figuration into map-like compositions. His confessional paintings (which tremulously remind the viewer to "be cool" and say "sorry") are appealing for their handcrafted feel and consistency between works – regardless of medium. Binkow's prints have even appeared as costumes for Post Malone and Portugal. The Man, the artist who stages his motifs influenced by Stuart Davis. Binkow seems to have an endless amount to share with the viewer, his compositions responding gracefully between large and small paintings, costumes, animations and sculptures.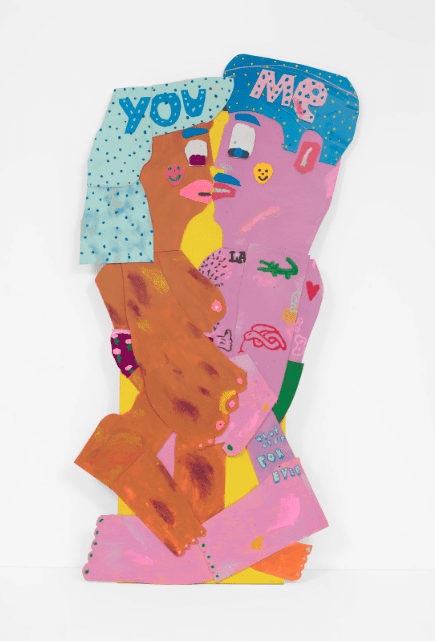 Through her most recent sculptural work, Binkow has pushed her aesthetic to consider the human form and heartfelt depictions of love and acceptance. These wall sculptures transform his fondness for text into scribbled writing, echoing the prodigious scribes of art brut and graffiti on toilets. The silhouettes intertwine – chipped tattoos and broken sneaker logos combine with the light touch of collage to form these dazzling life-size silhouettes.
As multiple bodies intertwine, it is clear that Binkow is interested in differentiation: how language, text and people are subtly, infinitely, different. Sammy Binkow is based in Los Angeles.
Please join us for the Opening Reception at Simchowitz DTLA this Thursday, June 16 from 5-7 p.m.
Sammy Binkow lovers on the loose June 16 – July 7, 2022
opening Thursday June 16 from 5 p.m. to 7 p.m. Simchowitz DTLA 725 East Washington Boulevard, Los Angeles CA 90021
Categories
Key words
Author
Marc Westall
Mark Westall is the founder and editor of FAD magazine, founder and co-editor of Art of Conversation and founder of the @worldoffad platform
Julian Pace: Some Paintings is an exhibition of new works by the Los Angeles-based artist. This is Pace's first exhibition […]
Simchowitz Gallery's next exhibition is a solo exhibition of works by Deng Shiqing. Stretched will be Deng's first presentation with the gallery. […]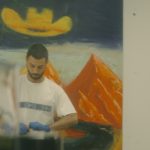 We caught up with Los Angeles-based artist Ken Taylor at the closing of his latest exhibition Mountains and Roses, the […]