The twelfth annual version of one of Japan's premier manga art exhibitions, which is sponsored by Sankei Shimbunopened in downtown Tokyo on Friday, April 29.
Like the famous ukiyo-e woodblock artists of the Edo period (1603-1868), today's manga artists and illustrators, who have played an important role in popularizing Japanese culture around the world, are sometimes called ishi (artists).
The theme of "Eshi Exhibition 100 Artists 12" (Eshi Hyakunin Ten 12), an exhibition of works by some of today's most distinguished manga artists, is michi. It is a term which means road or way, of the way of something.
In fact, the works of 104 artists will be exhibited at Akiba Square, located in Tokyo's Chiyoda district near Akihabara Station. The exhibition offers a good psychological escape since the various restrictions necessitated by COVID-19 have been lifted.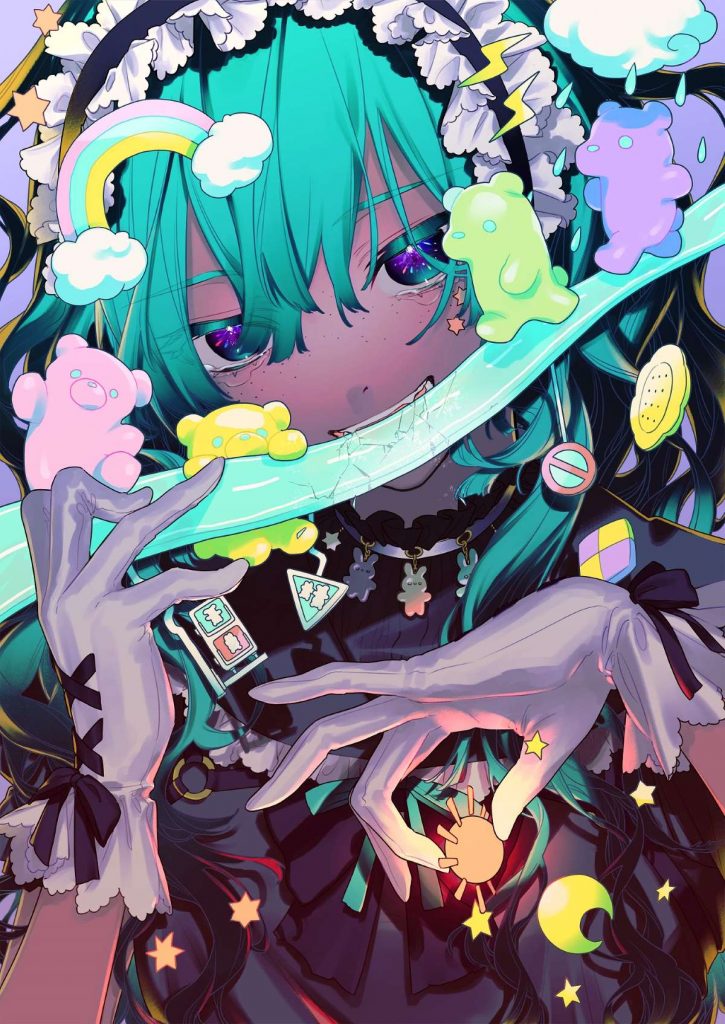 The envy behind the kindness
A young girl with green hair is literally chewing on a path along which colorful teddy bears resembling gummy fruit drops walk. Although she is surrounded by cute items in fashionable pop colors and appears to be smiling, her eyes fill with tears.
This is a scene from "Envy Green", drawn by female artist Shiro Usazaki (24). Usazaki is a very popular artist whose works are exhibited for the first time at Eshi 100. The title "Envy Green" is intended as a pun on the word "Evergreen". Although on the outside a young person may seem radiant with health and vitality, on the inside they may be possessed by disturbing thoughts when compared to others.
Usazaki says that when she considered the theme michithe first thing that comes to mind is the expression "The grass is always greener on the other side".
"In this photo, I was trying to capture the feeling that the girl thinks," Usazaki says, "that the path others take is fashionable and cute, just like it's as sweet as candy." That's why she drew the path and other objects in front of the girl as more colorful than her features.
"I'm happy if people can get the stark contrasts between color shade and brightness level," she adds.
Illusory and confusing paths
No doubt many of us got lost trying to find the right path when we were kids. We were so anxious we wanted to burst into tears, but we also had a bit of a thrill of taking risks by venturing into surroundings that were out of the ordinary for us. "Losing Your Way" (Mayoi Michi) by Otohiko Takano, an artist known for her distinctive creations with a fairy tale feeling, captures memories of such occasions presented in an illusory setting.
A young girl walks at night along a dark path where everything is bathed in a surreal blue glow. Look closely and you will be able to distinguish people who appear to be street residents. Or are they really cats?
The young girl's face betrays her discomfort, but at the same time she seems exhilarated by the adventure. Interpretation depends on the viewer's imagination.
Takano admits that she herself has a terrible sense of direction. She is quick to add, however, that she doesn't really care "for the feeling of helplessness and hopelessness she feels when she finds herself in a totally wrong place." The festive feeling of the painting makes the viewer feel like "this is the start of an adventure".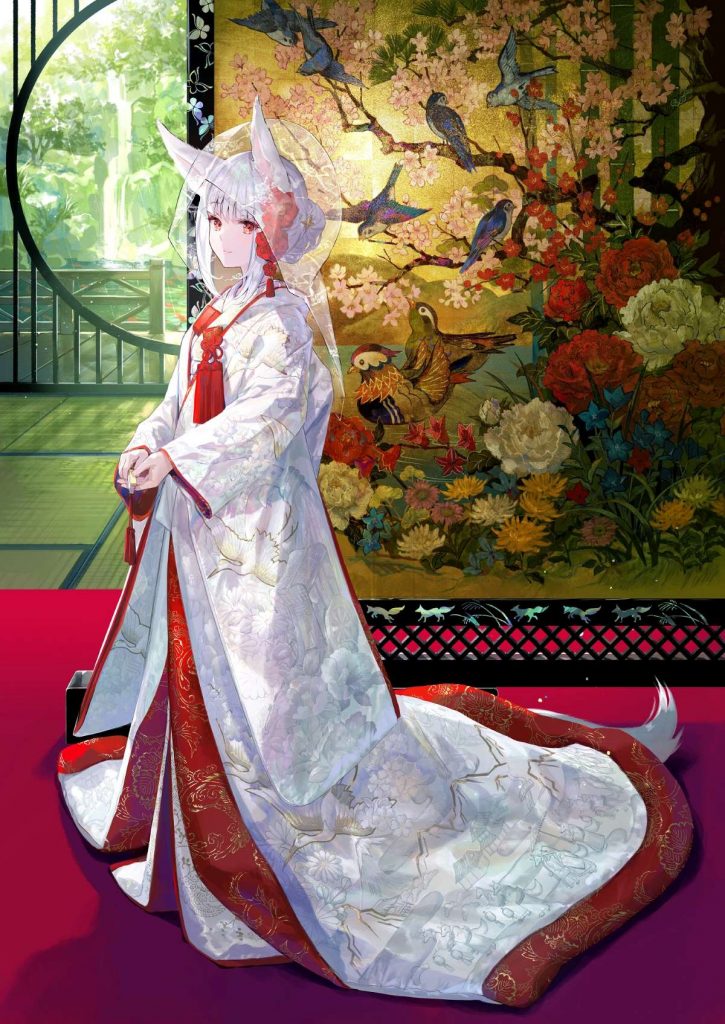 A crossroads in life
Choko Fuji's painting titled "Wedding Procession of the Fox" (Kitsune no Yomeiri) offers a different approach to the theme of michi. She explains how she came up with this concept as follows:
"I chose the motif of a fox about to be married to explore the theme of going on life's long journey with another person."
The painting shows a fox in full bridal garb, with her fox ears pricked up from under her scarf (as well as her tail protruding from below the back of the kimono). The vixen bride is portrayed as breathtakingly beautiful.
Fox weddings were a favorite subject in pre-modern Japanese folk art. The screen in the central background includes representations of pairs of birds. Fuji apparently tried to eliminate perspective as much as possible to make it feel like nihonga painting (Japanese style).
On the lower hem of the vulpine bride's pure white wedding kimono, you can see a bridal procession of foxes. (There are also foxes at the bottom of the screen in the back). In fact, there is yet another fox hidden in the picture.
"Since the painting is going to be shown in large format at the exhibition, I would be happy if visitors look for it," Ms. Fuji said.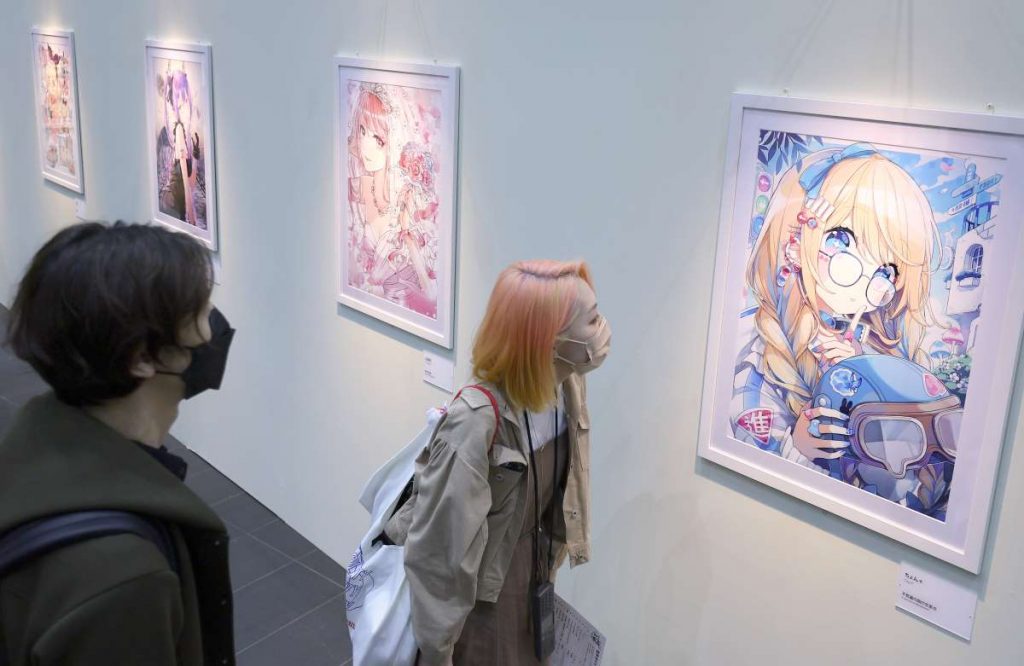 Other worlds to explore
There are a number of other works in the exhibition that express the individual worldviews of ishi exhibited artists.
Some show scenes related to the "ways" of tea (sado, chado) and flower arrangement (kado). Others depict "my path" – the personal journeys that the young girls have taken – in which the artists retrace the paths that they themselves have traveled.
How about visiting the exhibition to appreciate the works yourself, reminisce about the michi who brought you to where you are today and envision the road you will take from now on?
When: The "Eshi 100" exhibition runs from 10:00 a.m. to 8:00 p.m. daily from April 29 (Friday) to May 8 (Saturday)
Admission is ¥1,200 for high school students and above, and free for junior high students and below.
COVID-19 Protocols: Due to the COVID-19 pandemic, please wear a mask and observe other necessary precautions during the exhibition.
Further information: is available, mainly in Japanese, on the event website, here. michi, ukiyo-e.
To view reports on Eshi-100 exposures from previous years:
(Read the announcement in Japanese on this link.)
Author: The Sankei Shimbun